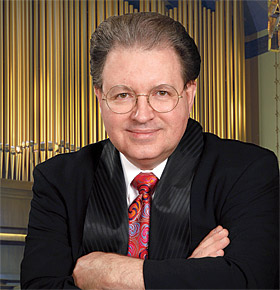 In the video below, Fred plays his transcription of Marche Characteristique from Tchaikovsky's Nutcracker Suite... a concert excerpt (1996) from his engagement at Stanford University's (Palo Alto, California) Memorial Church.
NEWS current to 30 June 2013
News updated by Angie.

PITTSBURGH CONCERT DATE IS SET. On SUNDAY, NOVEMBER 3, 2013 at 3 P.M., Frederick Hohman shall perform in recital at the landmark HEINZ MEMORIAL CHAPEL on the campus of University of Pittsburgh, where he will play the bold and fabulous 4-manual Reuter pipe organ. Fred's recital is the concluding event in a series of 5 weekly Sunday organ recitals this fall at Heinz Memorial Chapel. In recognition of Heinz Memorial Chapel as a favorite venue for weddings, the program will include Fred's newly-published FESTIVE TRUMPET VOLUNTARY IN E in addition to a few other wedding favorites, and Fred's newly-published transcription of the FIRST MOVEMENT OF KEYBOARD CONCERTO #3 in D, BWV 1054 by J. S. BACH.

METHUEN was warm in more ways than one! The heat and humidty did not deter Fred's loyal followers on June 26. In spite of concurrent, competing activity of conventions of both the Organ Historical Society and American Guild of Organists in nearby New England cities, the largest audience so far since the opening of the Methuen 2013 Summer Organ Recital Season turned out. Ignoring the heat, showers, and humidity, those in attendance enjoyed, along with Fred, the exciting Great Organ of Methuen. www.mmmh.org Too warm for a jacket, Fred played the full program exactly as promised, wearing white short sleeve shirt and bolo tie. The program was: Guilmant's transcription of Saint-Saëns Marche Heroique, Fred's new transcriptions of first movement of Bach's Keyboard Concerto No. 3 in D, BWV 1054, Franck's Prélude, fugue et variation, Fred's transcription of Liszt's Hungarian Rhapsody No. 2, Fred's Festive Trumpet Voluntary in E, Karg-Elert's Walze Mignon, concluding with Vierne's Canzona (from 24 Pieces in Free Style) and Carillon de Westminster (from Pièces de Fantaisie).

Methuen Memorial Music Hall officer Edward Sampson offered a nostalgic and warm introduction, recalling Fred's quarter-century of history with Methuen Memorial Music Hall. A standing ovation at program's end brought Fred back for an encore, where Fred chose Mulet's Tu es Petra (Thou Art the Rock), a piece he performed on one of his video programs made at Methuen (see a 1999-vintge video of this piece here on YouTube). Photo from June 26, 2013 concert is seen just below.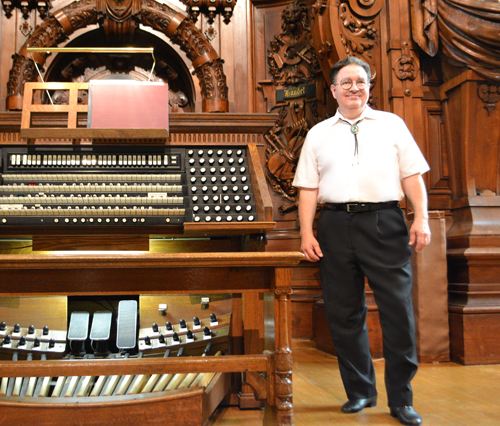 AUSTRIAN PUBLISHER DOBLINGER grants license for world-wide viewing of Hohman-performed Heiller and Planyavsky works on YouTube™. In a collaborative arrangement between Zarex Corporation and the Vienna, Austria publisher Doblinger ( www.doblinger.at ), video performances that Frederick Hohman made in 1999, of late 20th-century works by Anton Heiller and Peter Planyavsky are now viewable on YouTube. The performances were taped in August, 1999 for the Midnight Pipes television series. The series aired through episode #24, however, these contemporary Austrian works were to have been seen in a series episode following episode #24. The unseen episode had a focus on contemporary and jazz idioms in modern organ literature. This episode never aired, but these performance segments, unseen since taping in 1999, are now accessible on YouTube with the kind permission of the publisher. The Heiller and Planyavsky works were originally paired for the 30-minute t.v. episode with Hohman's own composition using similar contemporary elements, entitled The Homecoming. Hohman's work is also found on a YouTube video, and which is now published and distributed through Zarex Scores in the USA. Direct links to the videos are provided below, in case these videos do not display in your browser:

PETER PLANYAVSKY'S TOCCATA ALLA RUMBA
ANTON HEILLER'S TANZ-TOCCATA
FREDERICK HOHMAN'S THE HOMECOMING
FREDERICK receives invitation to present a double-workshop at the Boston 2014 National Convention of the American Guild of Organists. Frederick is pleased to have the opportunity of presenting two back-to-back workshops for organists of all levels of study on THURSDAY, June 26, 2014 between 8:30 and 10:30 a.m., on the topic of ORGAN ARTICULATION. Articulation, defined as the varying degrees of spaces between notes when played on the organ, is going to be discussed in depth with live real-time illustrations. The first hour of the workshop will review historical approaches to keyboard articulation, and demonstrate the effects of applied articulation, while the second hour will compare and discuss free-style as well as highly-structured articulation methods, in addition to disclosing and sharing Fred's method of notating articulation in scores.

Fred has served as the Director of the American Guild of Organists' (AGO) Committee on Educational Resources (CER), and when the CER merges with AGO's COPE (Committee on Professional Education), to form a new committee called CCPE (Committee for Continuing Professional Education) on July 1, 2013, he will retain a leadership role in the newly-merged committee. www.agohq.org

---

Fred's next original works scheduled to appear in print, still in progress this summer:
MODERN TRIO ON "ALL GLORY BE TO GOD ON HIGH" (6 minutes)
RHAPSODY FOR ORGAN AND ORCHESTRA (3 movements - 25 minutes)

---

ALMOST 800,000 views and counting! Fred's video of the Toccata from the Fifth Organ Symphony by Widor continues to grow in popularity. So far, almost 800,000 views. You can be the next viewer by linking here:
http://www.youtube.com/watch?v=DKejfYzB3ak


---

Notes by Fred ... recent and past news posts.

THREE NEW HOHMAN SCORE PUBLICATIONS NOW AVAILABLE. Just this past week, I was pleased to see the first printing of three new publications. One of these has been a very long time in arriving. It is my 1988 transcription of the MARCH OF THE TOYS from Victor Herbert's operetta "Babes in Toyland." Please LINK HERE for details and to purchase this score at proorgano.com.

The second of these new printed scores is my highly embellished arrangement of the original Trumpet Voluntary attributed to Henry Purcell and also to Jeremiah Clarke. LINK HERE to see details and a sample of the score. It is called FESTIVE TRUMPET VOLUNTARY IN E.

The third of these new publications is a recent arrangement, and the first in a series of similar arrangements soon to appear in print, from the KEYBOARD CONCERTI of J. S. Bach. The FIRST MOVEMENT of the KEYBOARD CONCERTO NO.3 in D, BWV 1054 is now available, and the score reveals how I play BOTH the keyboard soloist part AND the orchestral parts with one organist on a three-manual organ.

HAND IN GLOVE is how I would describe the experience of playing the very musical organ built by Dan Jaeckel at First Lutheran Church of Duluth on April 21. I found it an instrument that gave much back to me, and the connection there, I believe, carried over to enhance all aspects of the recital. I look forward to playing Mr. Jaeckel's Opus 52 again!

GOOD SPIRIT WAS WITH US IN CONCERT at THIRD BAPTIST in ST. LOUIS in FEBRUARY. It was a wonderful and spiritually-charged time at Third Baptist Church in St. Louis on Sunday afternoon, February 24. The organ dedication recital went well. The Third Baptist Church and members of the Emmanuel Episcopal (Webster Groves) Church choir joined me in a Hymn-Sing in the early part of the program, and they sang again later in the program when Third Baptist's choir director, Mr. Kad Day, led the choir, brass, timpiani (and me at the organ console) in the premiere of my"Festival Anthem on the Hymn-Tune Germany." The 6-1/2 minute anthem was commissioned from me by Third Baptist Church for premiere at the February 24 organ dedication concert. The work is now published by Zarex Scores and is available for purchase. It is recommended for a minimum 50-voice SATB choir. Link to the product here. For a look at all the scores published under the ZAREX SCORES brand, sold exclusively at ProOrgano.com, please link here. The audio of the February 24 concert was streamed live through the auspices of ORGANLIVE.COM. I was told after the concert that listeners from more than 10 nations around the world were tuned in.

TUMBLING OFF THE PODIUM - FEBRUARY 25! On the evening after the February 24 recital, on Monday, February 25, I was pleased to present a lecture-recital upon the topic of the symphonic organ and transcriptions for the St. Louis Chapter of the American Guild of Organists. The venue, again, was Third Baptist Church and its newly-completed 4-manual Reuter organ. About 2/3 of the way through my presentation, I took an unexpected tumble off the stage. The podium and pulpit area is multi-leveled, and is covered in the same white carpet. I did not see a drop off in the area, and as I went from one side of the podium area to another, there I went! While some in attendance uttered an audible gasp, luckily, I fell correctly, and no harm was done, so I picked myself right back up and finished the presentation. Thanks to AGO for coming out for the event and for arranging such a well-catered meal at the church prior to the evening's program.


---

Older news posts from the past two years appear below.

THREE H'S CONCERT IN PORTLAND, MAINE was a rousing success.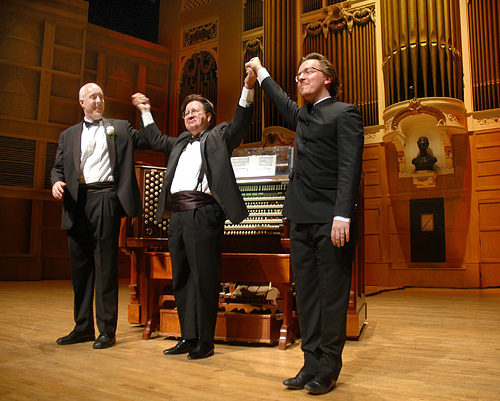 TAKING A FINAL BOW ON AUGUST 20.
From left to right: Thomas Heywood, Frederick Hohman, and Felix Hell, receiving a standing ovation at the conclusion of The Three H's Concert at Portland, Maine's Merrill Auditoriium, with the Kotzschmar console, organ case and bust of Herman Kotzschmar under the center tower of the organ's façade.

The Friends of the Kotzschmar Organ (www.foko.org) celebrated the 100th Anniversary of the municipal organ commonly known as the Kotzschmar Memorial Organ, located in Portland, Maine, City Hall Auditorium (now known as Merrill Auditorium), with a six-day event from August 17 to August 22, including 5 gala evening concerts, and daytime activities including an all-day "performathon," workshops and masterclasses. Monday night's concert on August 20 was designated as the "Classical" event, featuring Frederick Hohman, Thomas Heywood and Felix Hell in a triple-recital billed as "The Three H's."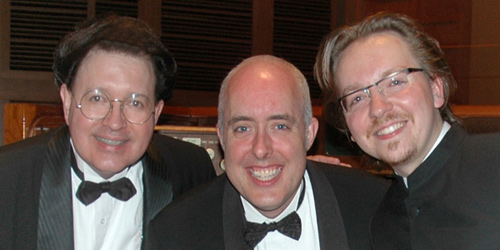 ONE MORE CLOSE-UP PLEASE. From left to right: Frederick Hohman, Thomas Heywood and Felix Hell, on the bench of the Kotzschmar Organ following the Three H's Concert on August 20 at Portland, Maine's Merrill Auditoriium.

Photos courtesy of Russ Burleigh. For more details about the 2012 100th Anniversary Celebration of the Kotzschmar Organ and its promising future, visit: www.foko.org.

THE THREE H'S program was the only concert in the week-long 100th Anniversary of the Kotzschmar Organ celebration week to be broadcast live over Maine Public Radio. The live broadcast pre-empted the Pipedreams broadcast normally heard over Maine Public Radio on Monday nights). Maine Arts! TV host Suzanne Nance and Pipedreams radio host Michael Barone provided on-site concert commentary and artist interviews just offstage. The Three H's concert was also covered by Maine Public Television, and a video digest of The Three H's concert, edited to fit broadcast time constraints, airs on MONDAY EVENING, SEPTEMBER 17, 2012 at 10 P.M. Eastern time, over Maine Public TV, with archiving of the program on the Maine network's website: mpbn.net .

---

NEW

Frederick Hohman videos posted at YouTube! Just posted are Fred's performances of two movements from Louis Vierne's Second Organ Symphony. The performances were recorded for the Midnight Pipes tv series, which Fred hosted from 1996 to 2001. These segments, recorded in Denver in June, 1998, on the occasion of Fred's appearance in an evening concert for the 1998 Nat'l Convention of the Organ Historical Society, were never completed and never aired, and are only seen for the first time now, some 14 years later. Here are the links:

http://www.youtube.com/watch?v=L4DymIT_ICM

http://www.youtube.com/watch?v=RUWpZDExXU4

Also, see Fred performing his own 1989 organ solo composition, The Homecoming, in his most recently posted YouTube video. This video was made in 1999, intended for inclusion in the Midnight Pipes television series, but the segment never aired. See it here for the first time:

http://www.youtube.com/watch?v=6ibAtPGJJ5E


---

• FRED's ORIGINAL COMPOSITIONS - Two newly-published works now available in SCORE and on audio CD.
Fred's newest organ work - completed on 7 September 2011 and premiered on December 4, 2011 (see below) - entitled "VARIATIONS ON KIRKEN" is available in printed score from ZAREX SCORES (Item ZS 1007. USD $20). Each printed score is shipped with a CD audio disc containing Fred's recording of the work.
Also just published, another original work dating from February, 1989, entitled "THE HOMECOMING," is available in printed score from ZAREX SCORES (Item ZS 1008. USD $20). Each printed score is shipped with a CD audio disc containing Fred's recording of the work.

• FRED's LATEST AUDIO CD - SOAR ABOVE THE ALL-WIDOR ALBUM - RECEIVES HIGH MARKS from one of America's most experienced and discriminating of music critics in Jan / Feb 2012 issue of The American Record Guide. To see the entire review, link here. "This sampler is not only well played, but the instrument heard ... combines French and German qualities into a very pleasing sonority. ... Hohman plays with authority and ease ... High marks for this practical addition to the Widor collection." These good words follow even stronger praise from a critic writing of the new album in a recent issue of The Diapason.

• 600,000 VIEWS AND STILL COUNTING!
FRED's YouTube VIDEO of the famous WIDOR TOCCATA has now well surpassed 600,000 VIEWS ON YouTube. Link here to see it! To purchase the CD audio disc containing the audio of the performance heard in the popular YouTube video, link here.


---

• A WARM WELCOME AND REUNION AT LYONS, NEW YORK.
On December 4, Fred returned to the sanctuary of First Lutheran Church in Lyons, New York (about midway between Rochester and Syracuse), to play a solo organ recital including the premiere of his latest original work: Variations on Kirken. The new work is dedicated to Pastor Arthur C. Sziemeister (pictured below with Fred and the newly-published score of the work), in honor of Pastor's 53 years of continual service as pastor to the parish of First Lutheran Church of Lyons. Fred served as organist-choirmaster of First Lutheran Church in Lyons from 1975 to 1979. The December 4 program also included works by J. S. Bach, Felix Mendelssohn, Charles-Marie Widor, and a Tchaikovsky transcription. The encore was the Noel de Saintonge by Dandrieu.

---

• ORGAN DEDICATION: MISSION ACCOMPLISHED.


On December 18, Fred was the guest of the Shrine of Our Lady of Mount Carmel in Melrose Park (greater Chicago), Illinois, its priests, Fr. Claudio and Fr. Fernando, and parish organist Ann Nabor, as he offered a Dedicatory Organ Recital celebrating the installation of the all-digital Royal Classic II organ by Wicks Organ Company. The instrument, manufactured to Wicks' specifications in Italy, is a two-manual and pedal instrument, with integrated digital voice synthesizer. The recital opened with two seasonal works, an Improvisation on God Rest Ye Merry Gentlemen, and Fred's extended arrangement of the classic Franz Schubert melody "Ave Maria." The program concluded with three movements of Fred's transcription of Tchaikovsky's Nutcracker Suite and the first and last movements (the Theme with Variations and the famous Toccata) from Widor's Fifth Organ Symphony.

---

• PORTLAND, HERE HE COMES... AGAIN!

FRED has been selected along with a handful of other noted concert organists, including Fred Swann and John Weaver, to be featured in concert during the week-long 100th anniversary celebration of the Kotzschmar Organ, to be held in mid-August, 2012 at Portland, Maine's Merrill Auditorium (City Hall Auditorium). In his concert, Fred will be joined by two other virtuosos, sharing a program with Felix Hell and with Australian virtuoso Thomas Heywood. More details soon! The event will mark Fred's 13th appearance for the Friends of the Kotzschmar Organ (FOKO). The place to be next August is PORTLAND, MAINE. Mark your calendars now!

---

• A FOND FAREWELL TO THE SCHWEITZER COMPETITION.

This past September (2011), Fred concluded a remarkable 14-year term serving as the permanent juror and festival artist of the Albert Schweitzer Organ Festival and Competition / USA. Fred had been with the ASOF / USA since its inception, with annual sojourns to the First Church of Christ, Wethersfield, Connecticut, for the event, held the weekend after Labor Day weekend each year. The ASOF / USA is scheduled to continue in 2012, with a new permanent juror to be announced, and continuing under the leadership and direction of founding festival competition organizer, David Spicer.

---

• PRODUCING FOR KEN COWAN In October (2011), Fred was the producer / engineer for the young and "in-demand" concert organist Ken Cowan, as he recorded a new organ solo album - for release on the Pro Organo label - on the recently restored organ of the Cathedral of St. John the Divine, in New York City. The album is set for release on April 27, 2012.


---

Chris Nagorka of Kanawha Organ Works is pictured below with the console of his Opus 1, and with Frederick Hohman after the May 15 recital. The recital was played in recognition of the 20th year of Kanawha Organ Works and the 14th year since the dedication of the Opus 1 instrument at St. Mark's Episcopal Church in St. Albans, West Virginia. The recital, by Mr. Nagorka's request, was the exact same program as Fred played 14 years earlier at the original opening of the organ.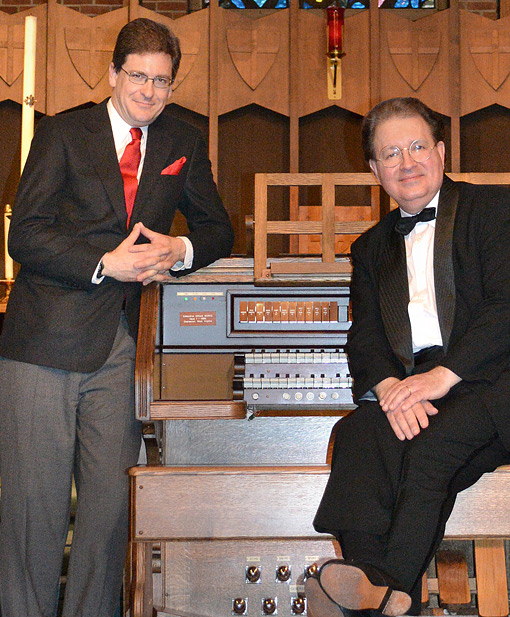 ---

In early May, Frederick was at the Church of St. Mary the Virgin, just off Times Square in New York City, when he served as music producer for a new double-CD set of Organ Works of César Franck, as performed by organist David Enlow, entitled PATER SERAPHICUS. David Enlow is an associate professor of organ at the Juilliard School of Music in New York, and is gaining in popularity as a touring recitalist. His new double-CD of Franck will be released on the Pro Organo label later in 2011. A post-recording session celebration was enjoyed by all on the rooftop patio (atop the parish hall of the church) that adjoins the apartment of the organist and director of music of St. Mary the Virgin, James Kennerly. Pictured raising a celebratory toast in the photo below, from left to right, are David Enlow, James Kennerly, Larry Trupiano (organ technician), Frederick Hohman, and Leon Giannakeff (associate sound engineer).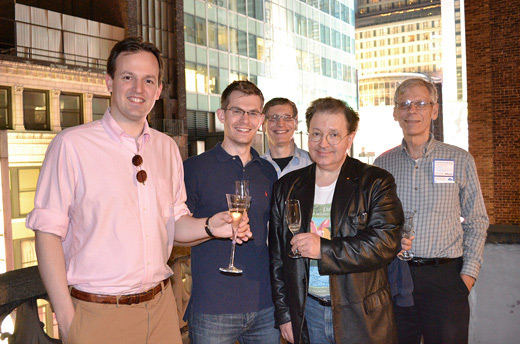 ---
A day of fine organ-playing, including organ classics from the baroque to the 20th-century, was experienced by Frederick Hohman and two co-jurors at the 2011 Arthur Poister Competition. Six contestants competed for two cash prizes during the day long event on April 9. Dr. Will Headlee who has been associated with the competition faithfully for over 30 years, served as competition host and moderator.

---

A fine time and standing ovation at Mahtomedi. For his March 27 concert at St. Andrew's Lutheran Church in Mahtomedi (Twin Cities), Minnesota, Fred was eloquently introduced by none other than the voice of "Pipedreams" (radio series from Minnesota Public Radio / American Public Media) Michael Barone; Mr. Barone was there to make a digital audio recording of the program for possible future broadcast. Fred's latest CD "SOAR ABOVE" was launched at the event, and Fred personalized CDs with autographs for fans after the performance. The organ was the 108-rank, 7310-pipe, Casavant (1927) / Schantz (2001). The program was: Finlandia (transcription) of Sibelius; Festive Trumpet Voluntary in E, Clarke-Hohman, Two Dances to Agni Yavishta / Litanies, by Alain, Allegro cantabile (Symphony 5) and Allegro (opening movement Symphony 6) by Widor; Concert Tarentella Op 90, by Lemare; Hungarian Rhapsody No. 2 (transcribed by Hohman), by Franz Liszt; Let's Dance (Benny Goodman Band Theme), and Moonlight Serenade (Glenn Miller Band Theme), arranged by Hohman; and Toccata from Suite, Opus 5 by Duruflé.

---