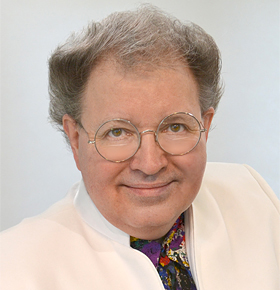 In the video below, Fred plays his transcription of Marche Characteristique from Tchaikovsky's Nutcracker Suite... a concert excerpt (1996) from his engagement at Stanford University's (Palo Alto, California) Memorial Church.
NEWS current to 4 FEBRUARY 2019. News updated by Angie.
5 February 2019 - Frederick Hohman's new 12-minute solo organ work - entitled THE ORGAN ICONS - which was by Frederick in response to being the 2019 award recipient in the American Guild of Organists' Pogorzelski-Yankee composition competition for new organ music, is to be premiered on March 3, 2019 by organist Katelyn Emerson at Indiana University of Pennsylvania. At the request of the premiering organist, Katelyn Emerson, Frederick has also granted Ms. Emerson permission to give the European premiere of THE ORGAN ICONS when she appears in recital at Magdeburg Cathedral, Germany, in August 2019. The score to the work is being published under the ZAREX SCORES insignia - score item ZS 1016 - and will go on sale at ProOrgano.com on March 5, 2019.

1 February 2019 - FREDERICK will participate in the 2019 St. Louis Pipe Organ Encounter, which is one of several such week-long educational programs for young and aspiring organists, held at various cities throughout the USA, sponsored and organized by the American Guild of Organists. The St. Louis 2019 encounter runs from Sunday, July 28, 2019 through Friday, August 2, 2019. FREDERICK is booked to present the Gala Open Organ Recital of the event, performing on the large Kilgen-Wicks organ in the Cathedral Basilica of Saint Louis on Monday, 29 JULY 2019. He shall be scheduled to work with two young organ students during the remainder of the week. For more information, please contact Mr. Horst Buchholz, Director of Music and Organist at the Cathedral, at telephone 314-373-8200.

31 January 2019 - A revival of the television series MIDNIGHT PIPES is happening in 2019. MIDNIGHT PIPES episodes - each filling a one-half hour t.v. time slot - were aired over several affiliates with public television in the USA from 1997 to 2001. The series, hosted by FREDERICK HOHMAN, featured guest organist, in addition to performance by Hohman himself, at venues from the Caribbean islands of Jamaica and Cozumel to organ venues throughout the USA. Productioni on the series ceased about 2003. Now, some 20 years later, the original video transmissions, were which recorded in digital video at the time of original airing, are being made available on the ProOrgano channel at Vimeo.com. One of the first episodes posted to the web is Frederick's 1998 visit to the Winston Churchill Memorial in Fulton, Missouri. The video is embedded just below. If the video does not appear in your browser, you may link directly to the video at: http://vimeo.com/315246151

17 April 2018 - FREDERICK is named as the 2019 award recipient in the American Guild of Organists' Pogorzelski-Yankee composition competition for new organ music. The award entails a commission for a new solo organ work to be composed by Hohman with a duration of between 10 and 12 minutes. The premiere of the new work is to occur in March 2019 at Indiana University of Pennsylvania. The award carries a $10,000 prize, which is the largest cash prize offered by a U.S. competition for new organ composition.

16 April 2018 - FREDERICK has become engaged to provide a gala organ recital celebrating the completion of restorative repairs to the 1902 Lyon & Healy pipe organ at the Basilica of Our Lady of Sorrows in Chicago, Illinois. Frederick's recital, which shall offer organ masterworks of J. S. Bach, César Franck, Charles-Marie Widor, Louis Vierne and Clarence Eddy, is to be given on the Feast Day of Our Lady of Sorrows, which is Sunday, September 16, 2018 at 3:00 p.m. Restorative repairs on the organ are being carried out this spring and summer by Mr. David Rhodes of City Organ Works LLC.

15 April 2018 - FREDERICK is pleased to be one of four organists invited to celebrate the most recent restoration of Ernest M. Skinner's Opus 190 organ on Monday Evening, May 7, 2018, at Grand Avenue Temple United Methodist Church in downtown Kansas City, Missouri. In September 1995, Frederick made a Compact Disc on the Opus 190 organ, entitled "OPUS 190." Opus 190 originally dates from 1912, and it is the only original and intact 4-manual organ built by Ernest M. Skinner. For his part in the celebratory concert, Frederick shall perform the final two movements from the Third Organ Symphony of Louis Vierne. The original DC blower for the Opus 190 organ has recently been upgraded to an AC blower, through the kind efforts of Quimby Pipe Organs.

8 November 2017 - FREDERICK had a busy autumn, with four appearances distributed over a 30 day period in October-November 2017.

FREDERICK appeared in recital upon the recent 3-manual Casavant pipe organ at First Presbyterian Church of Ilion, New York. The October 15, 2017 recital honored the memory of Mr. Humphreys, who had been a major benefactor of the organ at First Presbyterian Church in Ilion. Following the mid-afternoon recital and reception, Frederick was a dinner guest of the church's pastor, concert organizers and sponsors.

Next stop was a return concert appearance at Holy Trinity Lutheran Church in Lynchburg, Virginia on Sunday, October 22, 2017, where Frederick played the all-mechanical 2-manual and pedal Taylor & Boody organ located in the gallery choir loft.

Then is was back to upstate New York, for an organ recital program on the Schlicker organ (1970) at First Lutheran Church of Lyons, New York, with program selections based on German chorale melodies, including some melodies by Martin Luther. The program was given in recognition of the 500th anniversary of the Protestant Reformation.

Next stop was south to Eastern Texas, to the First Presbyterian Church of Kilgore, Texas, which is home to a large 3-manual Aeolian-Skinner organ designed by Roy Perry. The tonal attributes of this organ have been preserved over several decades. The tonal work of Roy Perry (who was also the organist-choirmaster of First Presbyterian in Kilgore) is considered by many as the finest to come from the Aeolian-Skinner organ company. This venue and organ was featured in several programs in the 2017 East Texas Organ Festival. The festival is an annual event that, in 2017, spanned November 5 through November 9. The festival organizer and host is First Presbyterian of Kilgore's current organist and choirmaster, Lorenz Maycher. The First Presbyterian Kilgore organ was heard in the opening night recital by Raul Ramirez, and on the second night of the festival, on Monday, November 6, FREDERICK played the featured evening program. Additional organists were featured in daytime and evening concerts at First Presbyterian of Kilgore during the course of the festival, and in addition to Kilgore venues, numerous organ concerts were heard from morning until evening in nearby Longview, Texas and Shreveport, Louisiana.

1 September 2017 - FREDERICK has been engaged to serve as organist for St. Paul Lutheran Church in South Bend for the 2017-2018 academic year. The position of organist became open when the previous organist assumed a position at another church in September 2017. At St. Paul Lutheran FREDERICK will play the traditional Sunday worship service (Missouri Synod Lutheran) as well as serve as the on call orgnaist for weddings and funerals. His arrangement with the church is similar to that of an "Artist in Residence" and gives Frederick the ability to be absent whenever necessary to fulfill concert engagements outside the area. The organ at St. Paul Lutheran is a 22-stop 1906 Pilcher (2-manuals and pedal, with 61 note manual compass / 30 note pedal compass) of entirely mechanical-action design, as rebuilt and augmented in 1992 by Detroit organ-builder David Wigton.

11 August 2017 - FREDERICK has another new CD release coming this August on Pro Organo. The new release, entitled PAGEANTRY & POETRY features standard organ literature from Eugene Gigout, J. S. Bach, Jean Langlais, Maurice Duruflé, César Franck and Henri Mulet, played upon the recently installed 4-manual Reuter organ at the Cathedral of the Immaculate Conception in Springfield, Illinois. Pre-orders are being received now at ProOrgano.com, with the CD product scheduled to ship between August 25 and August 31. A download version of the album will also become available at ProOrgano.com on August 25. A feature video about the new album is available at Vimeo.com, and is also embedded below. If the video does not appear when viewing with your browser, please link directly to the video at Vimeo with this link:
https://vimeo.com/228558935




---

21 June 2017 - FREDERICK received another warm reception for his 8th concert appearance at Methuen Memorial Music Hall. A standing ovation at concert's end was followed by Frederick playing Eugène Gigout's Toccata in B minor as an encore. After the first piece following the intermission, Frederick invited Edward Sampson to join him on stage to receive the autographed first music score from the initial printing of Frederick's new organ solo work, entitled METHUEN FANFARE. The work is dedicated to Edward Sampson, who has been a long-term supporter of Methuen Hall as well as a trustee for more than 20 years, in addition to being its current president. That's Frederick on left and Edward Sampson on the right, holding the autographed score at the presentation, in the photo just below.

---

20 June 2017 - FREDERICK MAKES A NEW MUSIC VIDEO OF HIS NEW ORGAN SOLO - METHUEN FANFARE - on the Great Organ of Methuen Memorial Music Hall. Frederick recorded the video during a practice break the day before his June 21 Methuen Hall recital. Frederick premiered the new piece as it was the opening work on his June 21 recital at Methuen Memorial Music Hall.

The METHUEN FANFARE Video is hosted at Vimeo. If it does not appear below in your browser, please link directly to the video at Vimeo with this link:
https://vimeo.com/223445181




---

02 June 2017 - FREDERICK CONCLUDES LATEST RECORDING SESSION FOR HIS NEXT CD RELEASE FEATURING THE NEW REUTER ORGAN AT CATHEDRAL OF THE IMMACULATE CONCEPTION IN SPRINGFIELD, ILLINOIS. Recording sessions for Frederick's next CD release, which shall be his first new CD release of 2017, occurred on May 31 and June 1, with the attendance of Reuter Organ Company President Albert "J.R." Neutel, Jr. and Cathedral Organist and Choirmaster Mark Gifford. In the two evening sessions (May 31 and June 1) Frederick recorded the following solo organ works: Grand Choeur Dialogue, Scherzo in E major, and Toccata in B minor by Gigout; Prelude and Fugue in F minor, BWV 534 and Frederick's transcription of Prelude from Suite No. 1 in G major for Celllo BWV 1007 by J. S. Bach; Prelude and Choral Variations on Veni Creator Opus 4 by Duruflé; Cantilene from Suite Breve, The Nativity from Three Evangelical Poems and Death and Resurrection from Three Gregorian Paraphrases by Langlais; Prelude Fugue and Variation Op 18 and Pastorale Op 19 by Franck; and Tu Es Petra from Byzantine Sketches by Mulet. The resulting album from the Springfield Cathedral is expected to be released in mid-August 2017 and shall appear with distribution on the branded Pro Organo label.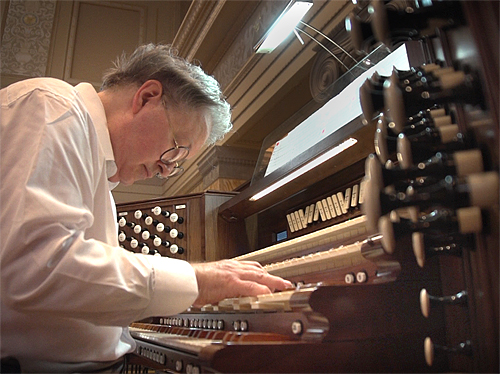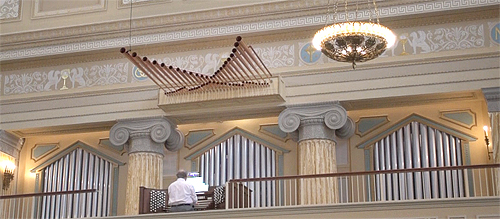 ---

01 May 2017 - FREDERICK RETURNS FOR ANOTHER RECITAL ON THE TAYLOR & BOODY ORGAN IN LYNCHBURG, VIRGINIA this October. See Calendar for details.

---

27 April 2017 - FREDERICK TO PERFORM DEDICATION RECITAL PROGRAM AT CATHEDRAL OF IMMACULATE CONCEPTION, SPRINGFIELD, ILLINOIS. Frederick has been selected as Dedicatory Recitalist for the new 4-manual Reuter Organ, recently completed and installed in the sanctuary of the Cathedral of the Immaculate Conception in Springfield, Illinois. The dedicatory recital program is to follow immediately after the Blessing of the Organ on SATURDAY EVENING, JUNE 17, 2017, beginning at 7:00 p.m. The event is free of charge and open to the public. Frederick has prepared and submitted the following dedication recital program: Grand Choeur Dialogue by Eugene Gigout; Arioso (Air on G String) from Orchestral Suite No. 3 in D, transcribed and embellished by Hohman; Toccata in F major, BWV 540a and Fugue in F minor, BWV 534b by J. S. Bach; Pastorale, Opus 19 by Cesar Franck; Final from Symphony No. 2 in D, Op 13 by Widor; Festive Trumpet Voluntary in E,embellished by Hohman; Prelude and Choral Variations on Veni Creator, Opus 4 by Durufle; Ave Maria by Franz Schubert, as transcribed and embellished by Hohman; and Tu Es Petra (Thou Art the Rock) from Byzantine Sketches by Henri Mulet.

The dedicatory recital event is to be broadcast through live internet streaming on the OrganLive.com internet channel, with pre-concert commentary beginning at approximately 6:45 p.m. Central Daylight Saving Time on Saturday, June 17.

---

20 April 2017 - METHUEN CONCERT OPENER DEDICATED TO THE CHAIRMAN OF THE BOARD. When Frederick opens his 2017 concert on Wednesday, June 21 at Methuen Memorial Music Hall (north of Boston), the opening work, which is Frederick's latest published original organ work, will be honoring Edward Sampson. Mr. Sampson has served on the Board of Directors at the historic music venue for much of the past three decades. The published score, which is now ready for distribution, entitled METHUEN FANFARE, carries the composer's dedicatory inscription to Mr. Sampson, honoring their long friendship and mutual devotion to Methuen Memorial Music Hall.

---

19 April 2017 - FREDERICK TO APPEAR AS FEATURED RECITALIST IN THE 2017 EAST TEXAS PIPE ORGAN FESTIVAL. Frederick has been selected as a featured organ recitalist, playing the Aeolian-Skinner organ at the First Presbyterian Church of Kilgore, Texas, in the 2017 East Texas Pipe Organ Festival. This annual festival, organized by Lorenz Maycher, has grown steadily with an excellent reputation for more than a decade. The 2017 festival spans Sunday, November 5 through Thursday, November 9. Frederick's event is set for MONDAY EVENING, NOVEMBER 6 at 7:30 p.m. More details to be posted on this page by September 1.

---

1 April 2017 - HERE COMES THE JUDGE! Frederick served as one of three jurors in the final round of the 2017 Arthur Poister Organ Competition. The competition originated in the 1980s, and has been managed for over 30 years by Will Headlee. The 2017 competition finals took place on the morning and afternoon of Saturday, April 1 at St. Paul's Episcopal Church in downtown Syracuse, where 6 finalists presented their competition programs. First and Second prizes were awarded. Other jurors serving in the 2017 finals were Dr. Judy Congdon of Houghton College (New York) and Dr. William Neil of National Presbyterian Church in Washington, D.C.

In the photo below, the 6 finalists are pictured with the three jurors following the competition. From left to right: William Neil (juror), Tyler Boehmer, Yunjung Lee, Nathaniel Gumbs, Janet Yieh, Alcee Chriss, Josiah Hamill, Judy Congdon (juror) and Frederick Hohman (juror).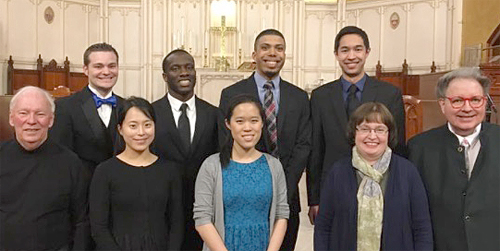 Frederick won First Prize in the Arthur Poister Organ-Playing Competition in 1984, and the 2017 finals marks his third occasion as a juror in the competition. Assisting Will Headlee in this year's competition were Annie Laver (faculty, University of Syracuse) and Benjamin Merchant (organ-builder). For more details on the 2017 competition, please refer to forthcoming issues of The American Organist and The Diapason magazines.

---

30 March 2017 - LESSONS FOR THE NEW ORGANIST MAKES DEBUT AT AGO. In July, 2016, the American Guild of Organists' (AGO) Committee on Continuing Professional Education (CCPE) commissioned Frederick to author and present a series of 30 video music lessons, with the goal of helping pianists of intermediate achievement to make a successful transition to the pipe organ when leading music in worship. The series is entitled LESSONS FOR THE NEW ORGANIST. Dr. Sharon Hettinger, the current Chair of AGO's CCPE, served as video product, with video production and post-production by Mark Crabtree. The entire 30-lesson series may now be seen on the AGO's YouTube Channel, and they may also be seen by linking from a new page at the Pro Organo website: https://proorgano.com/video-instruction/

---

7 March 2017 - STANDING "O" AGAIN AT SCRANTON. Frederick made his 3rd appearance at University of Scranton on Sunday afternoon, March 5, 2017, playing the restored 1910-vintage Austin pipe organ in the Houlihan McLean Center on the campus of the Jesuit-founded university. The program was performed according to the printed program and drew a standing ovation plus the encore of Widor's popular Toccata from Symphony No. 5; however, the surprise heavy-metal style opening was scrapped, arising from a temporary injury to connective tissue in Frederick's left hip the day prior to the performance, which limited the range of motion needed for pedaling in the planned surprise concert opener.

---

14 January 2017 - FREDERICK COMPLETES THE HOSTING OF A SERIES OF 30 INSTRUCTIONAL VIDEOS FOR AMERICAN GUILD OF ORGANISTS.

The Committee on Continuing and Professional Education (CCPE) of the American Guild of Organists (AGO) has contracted with Frederick to serve as the on-line instructor in a series of 30 instructional videos, which are aimed at helping pianists to make a successful transition to the pipe organ. Production on the videos began in late August, and has taken him and videographer Mark Crabtree and AGO CCPE Director Dr. Sharon Hettinger to various locations in Indiana, Michigan and Missouri and Kansas. Location production of all 30 videos in the series has wrapped as of January 13. All 30 videos are expected to be posted and available without restriction to all visiting the AGO website, by April 15, 2017. Visit www.agohq.org to locate and view these videos.

The series features lessons given at a variety of styles in organs at various churches and universities, including Pioneer Memorial Church at Andrews University (Michigan), Resurrection Chapel at Valparaiso University (Indiana), and the Organ Recital Hall of the DeBartolo Performing Arts Center at University of Notre Dame (Indiana).

---

29 December 2016 - NEW PUBLISHED TRANSCRIPTION COMING IN LATE JANUARY. Release of Frederick's published organ transcription score of "Flight of the Bumblbee" Score has drawn orders from 4 contintents only days following its announcement. The latest of Frederick's organ transcriptions to become published, "The Flight of the Bumblebee" (from the Opera The Tale of Tsar Saltan by Nicolai Rimsky-Korsakov), has drawn orders worldwide after the posting of Frederick's newvideo on Vimeo and YouTube, where Frederick plays his transcription on the new musical instrument invention: the ORGAMUSE. The score is expected to ship to first customers on January 23, 2017. You can view details and purchase the score at ProOrgano.com. Link here.

---

27 December 2016 - FREDERICK MAKES NEW WAVES IN THE ORGAN TRADE. In the final week of December, 2016, Frederick unveiled a new digital keyboard platform of his own design called the ORGAMUSE. To introduce it, Frederick has dusted off his very first organ transcription, which he wrote in April, 1976, of Rimsky-Kosakov's "The Flight of the Bumblebee" for pedal solo. The video has been drawing strong worldwide attention due to its "light up" pedalboard. This feature of the ORGAMUSE is demonstrated and explained in Frederick's introductory video for ORGAMUSE, which is now posted on line at both VIMEO and YOUTUBE. If the embedded video does not appear here, please click the direct link to the video at VIMEO.



---

26 December 2016 - FREDERICK's NEW CD RELEASE FROM CATHEDRAL OF ST. JOHN THE DIVINE draws is drawing strong approval and a few raves from organ devotées and critics, both for the stylish transcriptions as well as the standard literature in its program. The new CD, entitled FREDERICK HOHMAN'S GREAT ORGAN GALA!, was recorded in the two evenings prior to Frederick's concert appearance on the Music in a Great Space series at the Cathedral of St. John the Divine in New York City. For complete details on the album, which is now available as both CD and MP3 Download, link here to the ProOrgano website.

---

12 September 2016 - AGO ENGAGES FREDERICK AS ON-LINE INSTRUCTOR

The Committee on Continuing and Professional Education (CCPE) of the American Guild of Organists (AGO) has contracted with Frederick to serve as the on-line instructor in a series of 30 instructional videos, which are aimed at helping pianists to make a successful transition to the pipe organ. The series of 30 videos is scripted by Frederick, with oversight and input from Dr. Don Cook, the current Councillor for Education at AGO, and by Dr. Sharon Hettinger, the current Director of AGO's CCPE. The series offers a graded series of lessons, where Frederick is seen in a variety of contrasting venues, with spaces ranging from small to large, and with organs of several types of design. As of September 10, video lessons #1 through #12 have been filmed on location in Indiana, Michigan and Kansas. The production of AGO's series of instructional videos is scheduled to continue through February, 2017, with a plan of having all 30 videos on-line and available without restriction at the AGO website - www.agohq.org - by April 15, 2017. Please check back during the fall-winter-spring for updates and video links.

---

6 September 2016 - NEW FREDERICK HOHMAN ORGAN VIDEOS FROM MIDNIGHT PIPES TV ARCHIVES NOW AVAILABLE AT VIMEO.COM.

Two video performances by Frederick Hohman have recently been posted to the video sharing website VIMEO.COM. These videos have never before been posted online, and are drawn from two episodes in the MIDNIGHT PIPES television series, which was hosted by Frederick and produced from 1996 to 2002. Please use these links to access these videos.

FROM EPISODE #20 - (COMPLETE EPISODE) - FREDERICK PERFORMS THE EDWIN LEMARE TRANSCRIPTION OF TCHAIKOVSKY'S FANTASY-OVERTURE TO ROMEO & JULIET
30 minutes
https://vimeo.com/180685154
This video is the original broadcast satellite uplink video from the original airing in 1999, complete with the 30-second spot prior to the start of the program. The music performance - about 20 minutes - starts at about 8:45 into the program.

FROM EPISODE #18 - FREDERICK PERFORMS THE FIRST MOVEMENT OF THE FIFTH ORGAN SYMPHONY BY CHARLES-MARIE WIDOR.
12 minutes
https://vimeo.com/182286665

Both of these videos were produced prior to the introduction of High Definition television. These new postings are presented in High-Definition, thanks to the upconversion of the original video from standard to high definition, using specialized video hardware manufactured by Teranex.

---

1 September 2016 - FRED ANNOUNCES HIS 2017 METHUEN PROGRAM

Frederick is pleased to announce the program for what we believe shall be the tenth concert appearance of his career at the noted organ venue: Methuen Memorial Music Hall, located about 30 miles north of Boston. Frederick is scheduled to perform at Methuen on the first day of summer 2017: 21 June. The program offers a World Premiere Performance as well as variety and virtuosity. His program shall be as follows:

Methuen Fanfare [2015] - Frederick Hohman (World Premiere)
Prelude and Fugue in F minor, BWV 534 - J. S. Bach
Prelude from Suite No. 1 for Violoncello, BWV 1007 - J. S. Bach
as transcribed for pedal solo with organ continuo accompaniment by Hohman
IV. Innig from Six Canonic Studies, Op 56 - Robert Schumann
Pastorale, Op 19 from Six Pieces for Organ - César Franck
Finale from Organ Symphony No. 2 Op 13 - Charles-Marie Widor

INTERMISSION

#3 La Campanella from Grandes étdues de Paganini S. 141 - Liszt-Busoni
as transcribed by Randall Harlow
Vorspiel und Leibestod from Tristan und Isolde - Richard Wagner
as transcribed by Edwin Lemare
Pizzicato Polka - Joseh and Johann Strauss, Jr.
as transcribed by Frederick Hohman
Toccata from Suite, Opus 5 - Maurice Duruflé

Please mark your calendars now for June 21, 2017 for Methuen, and join Frederick for what promises to be a most memorable concert.

Frederick's Methuen DVD and CD 2-disc set - METHUEN CENTURY - dating from 2008, is still available at ProOrgano.com.

---

26 August 2016 - FREDERICK FEATURED AS ORGANIST, COMPOSER AND TRANSCRIBER ON PIPEDREAMS BROADCAST FOR WEEK OF AUGUST 29.

In the two-hour Pipedreams broadcast, hosted by Michael Barone and heard worldwide through American Public Media, Frederick was heard in the first-hour as organist and composer. The broadcast featured Frederick's own performance of his 2011 composition VARIATIONS ON THE HYMN-TUNE KIRKEN. The performance was given on the 1970 Schlicker organ at the First Lutheran Church of Lyons, New York, a venue where Frederick served as organist and choirmaster during the 1970s. The work was dedicated to Rev. Arthur C. Sziemeister, who has served the First Lutheran of Lyons parish since the 1950s, and who is still in service as the church's pastor today. The score and recording of the work is sold as a product bundle in the ZAREX SCORES area of ProOrgano.com.

In the second hour of the Pipedreams broadcast for August 29, Frederick was heard performing his own organ transcriptions of the Three Preludes for Piano by George Gershwin, which was recorded by Pipedream host Michael Barone at a concert performance Fred gave upon the Casavant-Schantz organ at St. Andrew's Lutheran Church in Mahtomedi, Minnesota. The Mahtomedi church is the venue where Fred recorded his all-Widor recoridng, entitled SOAR ABOVE. The all-Widor recording is available in CD format at ProOrgano.com.

---

1 August 2016 - FREDERICK COMPLETES NEW ORIGINAL WORK

Frederick Hohman announces the completion of a new original musical work for organ and piano duo, bearing the title "ELEGY." The work is of moderate difficulty for both organist and pianist, and has a duration of approximately 7 minutes. The new work took its inspiration from a small, two-note motive which is found in Samuel Barber's Adagio for Strings. Among the compositional stylings which are common to Frederick's writing are the melodic "sighing" figuration, as well as his "floating" tonality, where tonal centers retain their dominant-tonic effect, while never becoming grounded in any one musical key. Frederick hopes to record the work at the Pro Organo studio in December, and to release both the recording and an engraved, printed dmusical score in March, 2017.

When released, the score shall be available at the ZAREX SCORES section of ProOrgano.com. To view and sample more of Frederick's original compositions, which are published and available for purchase, please link here to the ZAREX SCORES area of the Pro Organo website.

---

6 January 2016 - ORGANLIVE.COM STATS SHOW FREDERICK TOP RATED.

The internet radio listeners have spoken! According to Brent Johnson, founder and administrator of OrganLive.com, in 2015, Frederick Hohman gained the most 5-star listener ratings (the highest possible score) of any organist heard on the internet channel, and Frederick Hohman tied with Virgil Fox as the most frequently rated organist on the internet broadcast service. OrganLive.com is a popular 24/7 streaming internet channel devoted exclusively to organ performance. WOW!

---

Postings from 2015 and earlier are found below.

---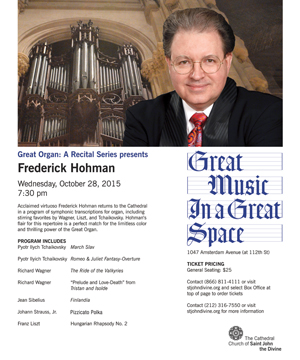 Frederick was the guest recitalist in the Great Music in a Great Space series at the Cathedral of St. John the Divine, New York City, on Wednesday, October 28, 2015. The program was, by request, an all-transcription program performed on the Cathedral's Great Organ, as follows:

Tchaikovsky / trans. Hohman -
March Slav, Opus 31
Tchaikovsky / trans. Lemare -
Fantasy-Overture to Romeo & Juliet
Wagner / trans. Lemare -
The Ride of the Valkyries
Wagner / trans. Lemare -
Prelude and Love-Death
from Tristan & Isolde
10-minute interval
Sibelius / trans. Fricker - Finlandia
Josef & Johann Strass, Jr. /
trans. Hohman - Pizzicato Polka
Liszt / trans. Hohman -
Hungarian Rhapsody No. 2
In the two evenings just prior to the October 28 recital, Frederick held recording sessions for a new solo organ album on the Cathedral's Great Organ. This CD release is scheduled for Spring, 2016. Below, Frederick waits silently after releasing the concluded note of a transcription, as the organ tone gradually fades in the rich Cathedral acoustic.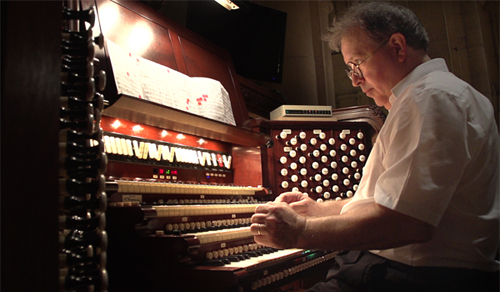 ---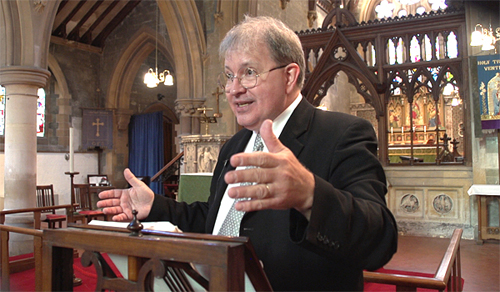 Frederick lectured and provided an organ recital in the site of the birthplace of Edwin H. Lemare on Saturday, September 12. Frederick joined the congregation of Holy Trinity Church in Ventnor, Isle of Wight UK, on the weekend of September 12-13, as the parish recognized the 150th anniversary of the birth of Edwin Henry Lemare (1865-1934). Edwin Henry Lemare was born and raised in Ventnor, Isle of Wight, where he became known as a keyboard prodigy, playing the organ at Holy Trinity Church, prior to setting off for advanced training in London. Lemare has become known in recent decades as a supreme organ virtuoso of the symphonic organ era, which spanned the years 1880 to 1920. Lemare was a celebrity musical figure, active both in England and in America, who helped to shape the development of modern organ-building techniques and playing styles. Frederick, who focused his Eastman School of Music doctoral essay upon Edwin Lemare's musical career and playing style, will gave a lecture on Lemare from the lecture located in the Nave of the sanctuary at 5:00 p.m. on September 12. A buffet supper followed at6:00 p.m. At 7:30 p.m. Fred gave a one-hour recital of original works and transcriptions of Lemare and his contemporaries on the Holy Trinity Church organ, an organ that Edwin Lemare once knew as a youngster.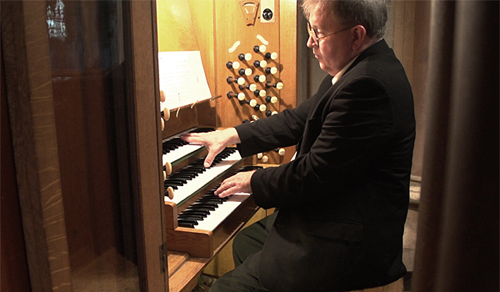 Above, Fred thumbs down from the Swell to the Great manual on the organ of Holy Trinity Church, Ventnor, Isle of Wight, while playing the second page of Edwin Lemare's 1888 original, the Andantino in D-flat, which later become popularized as Moonlight & Roses.

On Sunday morning, September 13, prior to departing Ventnor, Fred participated in the morning worship service by playing an organ prelude and organ postlude at the invitation of Holy Trinity's organist and choirmaster Mr. Duncan Williams.

While in Ventnor, Fred was the guest of parishioners Tim and Helen Slade. Their home is adjacent to the building that served as the final residence of Edwin Lemare's father.

---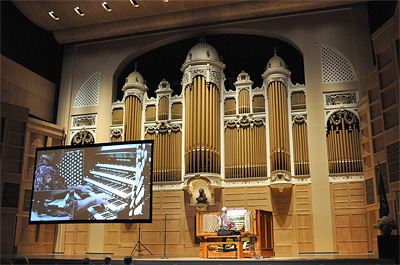 THE KOTZSCHMAR THIS PAST AUGUST WAS BETTER THAN EVER. Frederick appeared as the opening concert of Orgelfest15, a four-concert series sponsored by Friends of the Kotzschmar Organ, Portland, Maine on Tuesday evening, August 4. Orgelfest15 is the first summer series to be held on the mighty Kotzschmar organ in Merrill Auditorium since the organ's recent thorough renovation. Fred played the following program:

Toccata from Fifth Organ Symphony Op 42 #1, by Charles-Marie Widor
Bohemesque, [1922] by William Wolstenholme
Salut d'Amore, Op 127, by Edwin H. Lemare
Morceau de Concert en Forme de Valse, [1911] by Alfred Hollins
The "Wedge" Fugue, BWV 548b, by Johann Sebastian Bach
Poet and Peasant Overture, by Franz von Suppé, trans. Lemare
intermission
Pizzicato Polka, by Johann Strauss Jr and Josef Strauss, trans. Hohman
Impromptu and Toccata in B-flat minor,
from Pièces de Fantaisie, by Louis Vierne
Sax-O-Doodle, [1924] by Rudy Wiedoef & Hugo Frey, trans. Hohman
Hungarian Rhapsody #2, by Franz Liszt, trans. Hohman

At the re-opening of the organ last fall, Friends of the Kotzschmar erected a large video screen on stage, which used video picture-in-picture technology to provide the audience with a giant view of both the organ manuals and organ pedalboard. This screen was put in place for Frederick's concert, and remained in place for the duration of the concerts. A rousing standing ovation was gratefully received by Frederick at program's end. Near the end of his program, Frederick paid tribute to his late father, Marvin, who had been a life-long professional musician, specializing in saxophones and clarinet. For this tribute, Frederick played his organ solo transcription of a novelty saxophone recital piece from the 1920s, entitled Sax-O-Doodle.

---

News from 2014 and the distant past ...

---

Frederick appeared at Cathedral of St. John the Divine, New York City on Sunday, October 19, 2014. Fred presented a 45-minute program following Sunday Evensong, beginning at 5 p.m., on the Great Organ of the Cathedral of St. John the Divine, located on Manhattan's upper west side in New York City. After an introduction by The Very Reverend James A. Kowalski, D.Min. Dean of the Cathedral Church, which acknowledged Fred's long-term association with the Cathedral, as the producer of many CD recordings featuring the Cathedral's Great Organ, Fred presented his program, consisting of two of his own organ transcriptions (Tchaikovsky's March Slav, Opus 31, and an embellished transcription of Arioso - Air on G String from J. S. Bach's Orchestral Suite No. 3), as well as two transcriptions by Edwin H. Lemare (Tchaikovsky's Fantasy-Overture to Romeo & Juliet, and The Ride of the Valkries from Richard Wagner's "Die Walküre.")

---

Frederick presented a general discussion of the organ before music students at Albion College, Albion, Michigan in mid-November, 2014.

---

Frederick made his first appearance as Silent Movie Organist at July 1, 2014 concert at Chattanooga's Soldiers & Sailors Auditorium. Watch! This 25-minute concert excerpt video is served by YouTube. If the video does not appear in the frame just below, please link to YouTube to view it directly by clicking here.
Also... In this other video, made on July 1 prior to his July 1 evening concert, Frederick comments about the opportunity of making a new all-Lemare organ CD on the very organ on which Lemare once played during the late 1920s. This new video below is served by YouTube. If the video does not appear in the frame just below, please link to YouTube to view it directly by clicking here

---

In 2014, Frederick continued in his committee roles at AGO (American Guild of Organists) as committees consolidate / merge.

The AGO is an international not-for-profit, based in New York, with a primary focus of education in all matters related to the organ and related music disciplines. In 2012, Frederick was named as Director of the AGO's Committee on Educational Resources (CER). In 2013, as AGO combined two committees - the CER and COPE (Committee on Professional Education), Fred was named as Director of the newly-created Committee on Continuing Professional Education (CCPE). The primary objectives of CCPE in 2014 have been [1] to oversee and administer the planning and execution of educational music conferences, which are held by AGO in conjunction with select universities, and [2] to oversee the launch and first awards in a new scholarship program for undegraduate and graduate organ students, known as the Pogorzelski and Yankee Memorial Organ Scholarship (PYOS), where AGO is mandated, by terms of a generous bequest, to distribute USD $60,000 annually in scholarship assistance among six talented organ students who have demonstrated financial need as they pursue a degree in applied organ. In April, Fred accepted the additional AGO assignment of becoming temporary Moderator for a new AGO task force, which is to address the development of instructional internet videos for organists. Frederick's work at AGO concluded on July 1, 2015, when term limits mandated that he rotate off the Continuing Professional Education committee. His successor as director of CCPE is Dr. Sharon Hettinger.

---

Frederick appeared in the role of educator, instructor, and organ workshop leader in special double-length workshop as part of the 2014 Boston National Convention of the American Guild of Organists. Frederick's instruction method for the creation and application of structured and methodical articulation served as the basis for a double-workshop - two hours in length - that was presented on Thursday morning, June 26, 2014 from 8:30 to 10:45 a.m. at the Boston 2014 National Convention of The American Guild of Organists. Included in the workshop Frederick disclosed his own, personal system for the accurate notation of a variety of articulations in musical scores.

---

Hohman launched his latest album, LEMARE AFFAIR IV at his July 1, 2014 concert in Chattanooga! In 1987, Frederick was credited with launching a revival of the original organ music and organ transcriptions of Edwin H. Lemare, a colorful figures who has impressed many historians as perhaps the most famous and talented concert organist of all time. Frederick's Doctoral Essay was an in-depth study of Lemare's playing style, and his many recordings of Lemare's original works and transcriptions have been steady sellers for the Pro Organo CD label. Frederick's original Lemare Affair CD was made at Church of the Epiphany in Washington, D.C., and two sequels, Lemare Affair II and Lemare Affair III, were made on the historic Kotzschmar Memorial Organ at Portland, Maine's City Hall Auditorium, now known as Merrill Auditorium, where Edwin Lemare once thrilled large audiences during the early 1920s. It's been 10 years since the release of Lemare Affair III, and now, Lemare Affair IV will pick-up, and offer a program that focuses upon the original organ works and transcriptions that Lemare penned during the last years of his stellar careeer. Lemare Affair IV is to be recorded on another Lemare organ, the Opus 1206, four-manual Austin organ, recently restored in yet another Lemare venue: Soldiers and Sailors Memorial Auditorium in Chattanooga. While in Chattanooga, Lemare was sponsored in his post of Municipal Organist by the publishing mogul, Adolph Ochs, who was the owner of The New York Times as well as the Chattanooga Free Press. The July 1 concert was sponsored by the Chattanooga Music Club, and included works from the new Lemare Affair IV album, as well as a festive Armed Forces patriotic tribute, and a silent movie accompaniment.

---

To celebrate Frederick's video of the Toccata from the Fifth Symphony by Charles-Marie Widor topping ONE MILLION VIEWS on YouTube™, a the ringtone from the beginning of this video is being made available, free of charge, at the RINGTONES pages of the Pro Organo label website. record label, Pro Organo. View the video here and stay tuned!

---

---

Methuen Memorial Music Hall officer Edward Sampson offered a nostalgic and warm introduction, recalling Fred's quarter-century of history with Methuen Memorial Music Hall. A standing ovation at program's end brought Fred back for an encore, where Fred chose Mulet's Tu es Petra (Thou Art the Rock), a piece he performed on one of his video programs made at Methuen (see a 1999-vintge video of this piece here on YouTube). Photo from June 26, 2013 concert is seen just below.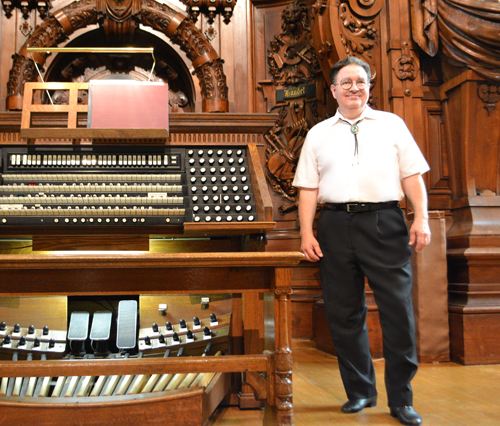 AUSTRIAN PUBLISHER DOBLINGER grants license for world-wide viewing of Hohman-performed Heiller and Planyavsky works on YouTube™. In a collaborative arrangement between Zarex Corporation and the Vienna, Austria publisher Doblinger ( www.doblinger.at ), video performances that Frederick Hohman made in 1999, of late 20th-century works by Anton Heiller and Peter Planyavsky are now viewable on YouTube. The performances were taped in August, 1999 for the Midnight Pipes television series. The series aired through episode #24, however, these contemporary Austrian works were to have been seen in a series episode following episode #24. The unseen episode had a focus on contemporary and jazz idioms in modern organ literature. This episode never aired, but these performance segments, unseen since taping in 1999, are now accessible on YouTube with the kind permission of the publisher. The Heiller and Planyavsky works were originally paired for the 30-minute t.v. episode with Hohman's own composition using similar contemporary elements, entitled The Homecoming. Hohman's work is also found on a YouTube video, and which is now published and distributed through Zarex Scores in the USA. Direct links to the videos are provided below, in case these videos do not display in your browser:

PETER PLANYAVSKY'S TOCCATA ALLA RUMBA
ANTON HEILLER'S TANZ-TOCCATA
FREDERICK HOHMAN'S THE HOMECOMING
---

Notes by Fred ... posts from 2013 and earlier.

THREE NEW HOHMAN SCORE PUBLICATIONS NOW AVAILABLE. Just this past week, I was pleased to see the first printing of three new publications. One of these has been a very long time in arriving. It is my 1988 transcription of the MARCH OF THE TOYS from Victor Herbert's operetta "Babes in Toyland." Please LINK HERE for details and to purchase this score at proorgano.com.

The second of these new printed scores is my highly embellished arrangement of the original Trumpet Voluntary attributed to Henry Purcell and also to Jeremiah Clarke. LINK HERE to see details and a sample of the score. It is called FESTIVE TRUMPET VOLUNTARY IN E.

The third of these new publications is a recent arrangement, and the first in a series of similar arrangements soon to appear in print, from the KEYBOARD CONCERTI of J. S. Bach. The FIRST MOVEMENT of the KEYBOARD CONCERTO NO.3 in D, BWV 1054 is now available, and the score reveals how I play BOTH the keyboard soloist part AND the orchestral parts with one organist on a three-manual organ.

HAND IN GLOVE is how I would describe the experience of playing the very musical organ built by Dan Jaeckel at First Lutheran Church of Duluth on April 21. I found it an instrument that gave much back to me, and the connection there, I believe, carried over to enhance all aspects of the recital. I look forward to playing Mr. Jaeckel's Opus 52 again!

GOOD SPIRIT WAS WITH US IN CONCERT at THIRD BAPTIST in ST. LOUIS in FEBRUARY. It was a wonderful and spiritually-charged time at Third Baptist Church in St. Louis on Sunday afternoon, February 24. The organ dedication recital went well. The Third Baptist Church and members of the Emmanuel Episcopal (Webster Groves) Church choir joined me in a Hymn-Sing in the early part of the program, and they sang again later in the program when Third Baptist's choir director, Mr. Kad Day, led the choir, brass, timpiani (and me at the organ console) in the premiere of my"Festival Anthem on the Hymn-Tune Germany." The 6-1/2 minute anthem was commissioned from me by Third Baptist Church for premiere at the February 24 organ dedication concert. The work is now published by Zarex Scores and is available for purchase. It is recommended for a minimum 50-voice SATB choir. Link to the product here. For a look at all the scores published under the ZAREX SCORES brand, sold exclusively at ProOrgano.com, please link here. The audio of the February 24 concert was streamed live through the auspices of ORGANLIVE.COM. I was told after the concert that listeners from more than 10 nations around the world were tuned in.

TUMBLING OFF THE PODIUM - FEBRUARY 25! On the evening after the February 24 recital, on Monday, February 25, I was pleased to present a lecture-recital upon the topic of the symphonic organ and transcriptions for the St. Louis Chapter of the American Guild of Organists. The venue, again, was Third Baptist Church and its newly-completed 4-manual Reuter organ. About 2/3 of the way through my presentation, I took an unexpected tumble off the stage. The podium and pulpit area is multi-leveled, and is covered in the same white carpet. I did not see a drop off in the area, and as I went from one side of the podium area to another, there I went! While some in attendance uttered an audible gasp, luckily, I fell correctly, and no harm was done, so I picked myself right back up and finished the presentation. Thanks to AGO for coming out for the event and for arranging such a well-catered meal at the church prior to the evening's program.

---

Older news posts from the past two years appear below.

THREE H'S CONCERT IN PORTLAND, MAINE was a rousing success.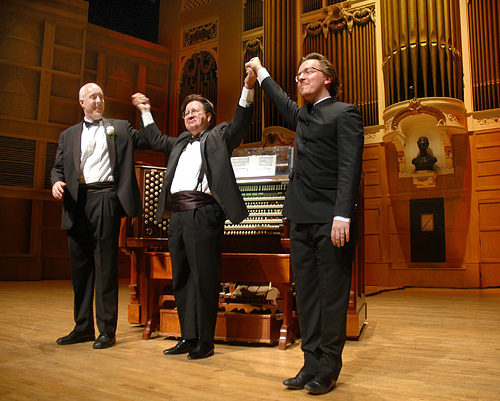 TAKING A FINAL BOW ON AUGUST 20.
From left to right: Thomas Heywood, Frederick Hohman, and Felix Hell, receiving a standing ovation at the conclusion of The Three H's Concert at Portland, Maine's Merrill Auditoriium, with the Kotzschmar console, organ case and bust of Herman Kotzschmar under the center tower of the organ's façade.

The Friends of the Kotzschmar Organ (www.foko.org) celebrated the 100th Anniversary of the municipal organ commonly known as the Kotzschmar Memorial Organ, located in Portland, Maine, City Hall Auditorium (now known as Merrill Auditorium), with a six-day event from August 17 to August 22, including 5 gala evening concerts, and daytime activities including an all-day "performathon," workshops and masterclasses. Monday night's concert on August 20 was designated as the "Classical" event, featuring Frederick Hohman, Thomas Heywood and Felix Hell in a triple-recital billed as "The Three H's."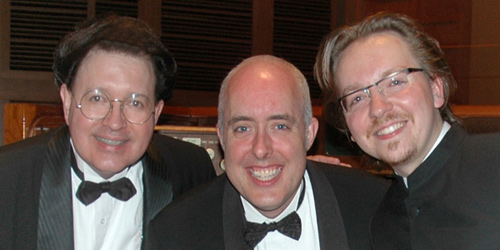 ONE MORE CLOSE-UP PLEASE. From left to right: Frederick Hohman, Thomas Heywood and Felix Hell, on the bench of the Kotzschmar Organ following the Three H's Concert on August 20 at Portland, Maine's Merrill Auditoriium.

Photos courtesy of Russ Burleigh. For more details about the 2012 100th Anniversary Celebration of the Kotzschmar Organ and its promising future, visit: www.foko.org.

THE THREE H'S program was the only concert in the week-long 100th Anniversary of the Kotzschmar Organ celebration week to be broadcast live over Maine Public Radio. The live broadcast pre-empted the Pipedreams broadcast normally heard over Maine Public Radio on Monday nights). Maine Arts! TV host Suzanne Nance and Pipedreams radio host Michael Barone provided on-site concert commentary and artist interviews just offstage. The Three H's concert was also covered by Maine Public Television, and a video digest of The Three H's concert, edited to fit broadcast time constraints, airs on MONDAY EVENING, SEPTEMBER 17, 2012 at 10 P.M. Eastern time, over Maine Public TV, with archiving of the program on the Maine network's website: mpbn.net .

---

NEW

Frederick Hohman videos posted at YouTube! Just posted are Fred's performances of two movements from Louis Vierne's Second Organ Symphony. The performances were recorded for the Midnight Pipes tv series, which Fred hosted from 1996 to 2001. These segments, recorded in Denver in June, 1998, on the occasion of Fred's appearance in an evening concert for the 1998 Nat'l Convention of the Organ Historical Society, were never completed and never aired, and are only seen for the first time now, some 14 years later. Here are the links:

http://www.youtube.com/watch?v=L4DymIT_ICM

http://www.youtube.com/watch?v=RUWpZDExXU4

Also, see Fred performing his own 1989 organ solo composition, The Homecoming, in his most recently posted YouTube video. This video was made in 1999, intended for inclusion in the Midnight Pipes television series, but the segment never aired. See it here for the first time:

http://www.youtube.com/watch?v=6ibAtPGJJ5E

---

• FRED's ORIGINAL COMPOSITIONS - Two newly-published works now available in SCORE and on audio CD.
Fred's newest organ work - completed on 7 September 2011 and premiered on December 4, 2011 (see below) - entitled "VARIATIONS ON KIRKEN" is available in printed score from ZAREX SCORES (Item ZS 1007. USD $20). Each printed score is shipped with a CD audio disc containing Fred's recording of the work.
Also just published, another original work dating from February, 1989, entitled "THE HOMECOMING," is available in printed score from ZAREX SCORES (Item ZS 1008. USD $20). Each printed score is shipped with a CD audio disc containing Fred's recording of the work.

• FRED's LATEST AUDIO CD - SOAR ABOVE THE ALL-WIDOR ALBUM - RECEIVES HIGH MARKS from one of America's most experienced and discriminating of music critics in Jan / Feb 2012 issue of The American Record Guide. To see the entire review, link here. "This sampler is not only well played, but the instrument heard ... combines French and German qualities into a very pleasing sonority. ... Hohman plays with authority and ease ... High marks for this practical addition to the Widor collection." These good words follow even stronger praise from a critic writing of the new album in a recent issue of The Diapason.

• 600,000 VIEWS AND STILL COUNTING!
FRED's YouTube VIDEO of the famous WIDOR TOCCATA has now well surpassed 600,000 VIEWS ON YouTube. Link here to see it! To purchase the CD audio disc containing the audio of the performance heard in the popular YouTube video, link here.

---

• A WARM WELCOME AND REUNION AT LYONS, NEW YORK.
On December 4, Fred returned to the sanctuary of First Lutheran Church in Lyons, New York (about midway between Rochester and Syracuse), to play a solo organ recital including the premiere of his latest original work: Variations on Kirken. The new work is dedicated to Pastor Arthur C. Sziemeister (pictured below with Fred and the newly-published score of the work), in honor of Pastor's 53 years of continual service as pastor to the parish of First Lutheran Church of Lyons. Fred served as organist-choirmaster of First Lutheran Church in Lyons from 1975 to 1979. The December 4 program also included works by J. S. Bach, Felix Mendelssohn, Charles-Marie Widor, and a Tchaikovsky transcription. The encore was the Noel de Saintonge by Dandrieu.

---

• ORGAN DEDICATION: MISSION ACCOMPLISHED.


On December 18, Fred was the guest of the Shrine of Our Lady of Mount Carmel in Melrose Park (greater Chicago), Illinois, its priests, Fr. Claudio and Fr. Fernando, and parish organist Ann Nabor, as he offered a Dedicatory Organ Recital celebrating the installation of the all-digital Royal Classic II organ by Wicks Organ Company. The instrument, manufactured to Wicks' specifications in Italy, is a two-manual and pedal instrument, with integrated digital voice synthesizer. The recital opened with two seasonal works, an Improvisation on God Rest Ye Merry Gentlemen, and Fred's extended arrangement of the classic Franz Schubert melody "Ave Maria." The program concluded with three movements of Fred's transcription of Tchaikovsky's Nutcracker Suite and the first and last movements (the Theme with Variations and the famous Toccata) from Widor's Fifth Organ Symphony.

---

• PORTLAND, HERE HE COMES... AGAIN!

FRED has been selected along with a handful of other noted concert organists, including Fred Swann and John Weaver, to be featured in concert during the week-long 100th anniversary celebration of the Kotzschmar Organ, to be held in mid-August, 2012 at Portland, Maine's Merrill Auditorium (City Hall Auditorium). In his concert, Fred will be joined by two other virtuosos, sharing a program with Felix Hell and with Australian virtuoso Thomas Heywood. More details soon! The event will mark Fred's 13th appearance for the Friends of the Kotzschmar Organ (FOKO). The place to be next August is PORTLAND, MAINE. Mark your calendars now!

---

• A FOND FAREWELL TO THE SCHWEITZER COMPETITION.

This past September (2011), Fred concluded a remarkable 14-year term serving as the permanent juror and festival artist of the Albert Schweitzer Organ Festival and Competition / USA. Fred had been with the ASOF / USA since its inception, with annual sojourns to the First Church of Christ, Wethersfield, Connecticut, for the event, held the weekend after Labor Day weekend each year. The ASOF / USA is scheduled to continue in 2012, with a new permanent juror to be announced, and continuing under the leadership and direction of founding festival competition organizer, David Spicer.

---

• PRODUCING FOR KEN COWAN In October (2011), Fred was the producer / engineer for the young and "in-demand" concert organist Ken Cowan, as he recorded a new organ solo album - for release on the Pro Organo label - on the recently restored organ of the Cathedral of St. John the Divine, in New York City. The album is set for release on April 27, 2012.

---

Chris Nagorka of Kanawha Organ Works is pictured below with the console of his Opus 1, and with Frederick Hohman after the May 15 recital. The recital was played in recognition of the 20th year of Kanawha Organ Works and the 14th year since the dedication of the Opus 1 instrument at St. Mark's Episcopal Church in St. Albans, West Virginia. The recital, by Mr. Nagorka's request, was the exact same program as Fred played 14 years earlier at the original opening of the organ.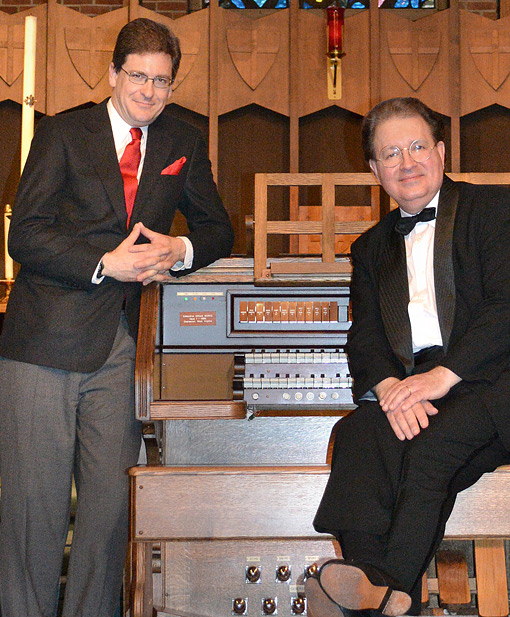 ---

In early May, Frederick was at the Church of St. Mary the Virgin, just off Times Square in New York City, when he served as music producer for a new double-CD set of Organ Works of César Franck, as performed by organist David Enlow, entitled PATER SERAPHICUS. David Enlow is an associate professor of organ at the Juilliard School of Music in New York, and is gaining in popularity as a touring recitalist. His new double-CD of Franck will be released on the Pro Organo label later in 2011. A post-recording session celebration was enjoyed by all on the rooftop patio (atop the parish hall of the church) that adjoins the apartment of the organist and director of music of St. Mary the Virgin, James Kennerly. Pictured raising a celebratory toast in the photo below, from left to right, are David Enlow, James Kennerly, Larry Trupiano (organ technician), Frederick Hohman, and Leon Giannakeff (associate sound engineer).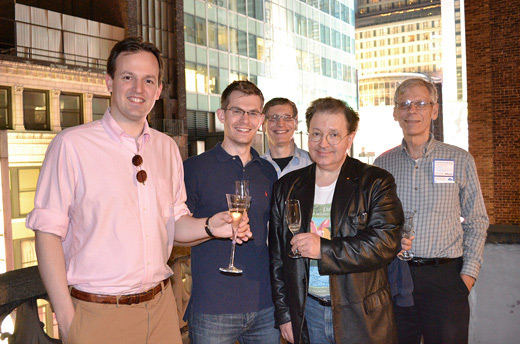 ---
A day of fine organ-playing, including organ classics from the baroque to the 20th-century, was experienced by Frederick Hohman and two co-jurors at the 2011 Arthur Poister Competition. Six contestants competed for two cash prizes during the day long event on April 9. Dr. Will Headlee who has been associated with the competition faithfully for over 30 years, served as competition host and moderator.

---

A fine time and standing ovation at Mahtomedi. For his March 27 concert at St. Andrew's Lutheran Church in Mahtomedi (Twin Cities), Minnesota, Fred was eloquently introduced by none other than the voice of "Pipedreams" (radio series from Minnesota Public Radio / American Public Media) Michael Barone; Mr. Barone was there to make a digital audio recording of the program for possible future broadcast. Fred's latest CD "SOAR ABOVE" was launched at the event, and Fred personalized CDs with autographs for fans after the performance. The organ was the 108-rank, 7310-pipe, Casavant (1927) / Schantz (2001). The program was: Finlandia (transcription) of Sibelius; Festive Trumpet Voluntary in E, Clarke-Hohman, Two Dances to Agni Yavishta / Litanies, by Alain, Allegro cantabile (Symphony 5) and Allegro (opening movement Symphony 6) by Widor; Concert Tarentella Op 90, by Lemare; Hungarian Rhapsody No. 2 (transcribed by Hohman), by Franz Liszt; Let's Dance (Benny Goodman Band Theme), and Moonlight Serenade (Glenn Miller Band Theme), arranged by Hohman; and Toccata from Suite, Opus 5 by Duruflé.

---